On Thursday Vinge was for the second time in four years awarded the prestigious award Sweden IP Firm of the Year at a ceremony in London.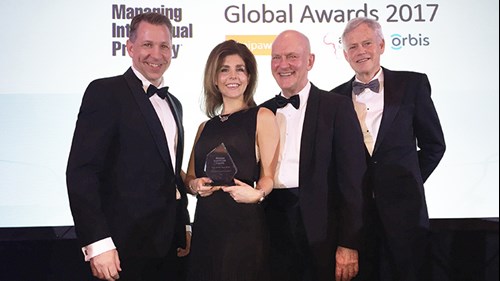 Caption: The Sweden IP Firm of the Year award was received by Tobias Kempas, Malin Malm Waerme, Ulf Dahlgren and Pär Leander.  
The awards are hosted by the analysis firm and media house Managing Intellectual Property (MIP), and are generally considered as the most eminent in the industry. Sweden IP Firm of the Year is awarded to the Swedish law firm deemed to be behind the most innovative and challenging IP work of the past year, as well as contributing to driving the international IP market.
Håkan Borgenhäll, head of Vinge IP group, Stockholm: -Needless to say we are very happy for the recognition from the industry this award signifies. It is also positive that the publishing house and the award itself draw attention to the important IP area. Several pieces of research, among them from EUIPO and the Vinge IP Barometer, show that companies putting great focus on IP are strengthening their competitiveness. It also shows that infringements are on the rise, a trend which is expected to continue. Accordingly there is every reason for many parties to review their IP rights, and we are glad to be able to contribute in that process.
For more information:
Kristian Sjöholm
Press officer
kristian.sjoholm@vinge.se
+46106143353