Managing IP Awards recognises Vinge as a quadruple winner at this year's awards ceremony which was held at a gala in London on Wednesday. Vinge is thus one of the most awarded firms at the gala and the Swedish firm which receives the most awards.
Managing IP Awards is the most comprehensive and prestigious event in the field of intellectual property, both in Sweden and internationally. The awards, which recognise particularly significant achievements and efforts, are presented by the analysis company and media house Managing Intellectual Property (MIP). At the award ceremony, Vinge was named the best Swedish law firm in three categories: Sweden Patent Disputes Firm of the Year, Sweden Trademark Prosecution Firm of the Year and Sweden Copyright & Design Firm of the Year. Advokat Håkan Borgenhäll, Partner and Founder of Vinge's current IP practice, also received the prestigious Sweden Practitioner of the Year award. This is the first time such an award has been conferred.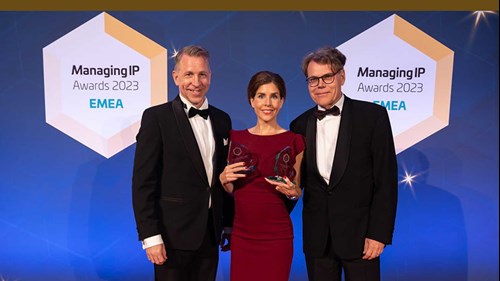 The awards were received by Tobias Kempas, Malin Malm Waerme and Håkan Borgenhäll.
Photo: ASV Photography Ltd.
Richard Wessman, Partner and Head of Vinge's IP group in Stockholm:
We are in a strongly positive and expansive development for Vinge's IP group. As intellectual property law increasingly approaches Europe, we see an advantage in being able to offer both size and breadth. With over 30 employees in our intellectual property group - which includes several of the country's leading experts and profiles in areas such as patents, copyright, design and trademarks - we can take on engagements that place stringent demands on cutting-edge expertise in most areas and industries. It is with great gratitude to our clients that we receive these awards, as they represent a strong degree of recognition from the industry.