Vinge is very proud and happy to announce that the firm's winning streak in 2014 has entailed a complete "Grand Slam" as a result of Vinge being awarded the Swedish M&A Legal Adviser of the Year by the analysis company Mergermarket at a ceremony held at the Savoy Hotel in London yesterday.
This award is the latest in a series of awards as Law Firm of the Year 2014 from Chambers & Partners, IFLR, Sweden's IP Law Firm of the Year from Managing Intellectual Property as well as the IFLR European Women in Business Law Award.
"We have noticed an increased transaction volume in Sweden during 2014 and we have continually topped Mergermarket's quarterly tables for most deals. However, this award is not only based on the number of deals but also on, among other things, the complexity and strategic nature of the transactions that we have worked on. I am very satisfied and proud of our winning streak this year – we won all of the awards that we had hoped for. As far as I am aware, this achievement is unprecedented and we are privileged to have the fantastic clients and employees at the firm who helped to make this possible," says Maria Pia Hope, CEO of Vinge and Managing Partner in Stockholm.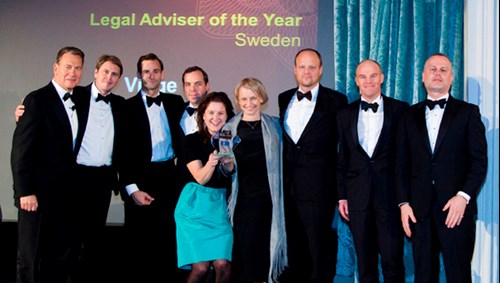 Mergermarket M&A Legal Adviser of the Year is awarded by Mergermarket, an independent M&A analysis company. The national and European awards are given to the best firms and are based on both transaction data and financing solutions as well as on how strategic, pioneering and complex the transactions have been.